Cinema Advertising Agency in India
Cinema Advertising in India is one of the most sought after and effective medium to connect with a large number of audience who come and watch movies in different theatres and multiplexes across India. Advertising in Cinema (also known as Theatre Advertising or Multiplex Advertising) is a very popular medium, not only in metro cities but also in semi metros and rural areas. Theatre Advertising Rates are cheaper as compared to other non mass media options. Cinema advertising has always been one of the most preferred ways of advertising for more than 30 years. And in recent years, Cinema screen advertising has become even more popular medium of advertisement due to increased availability of multiplexes in large numbers.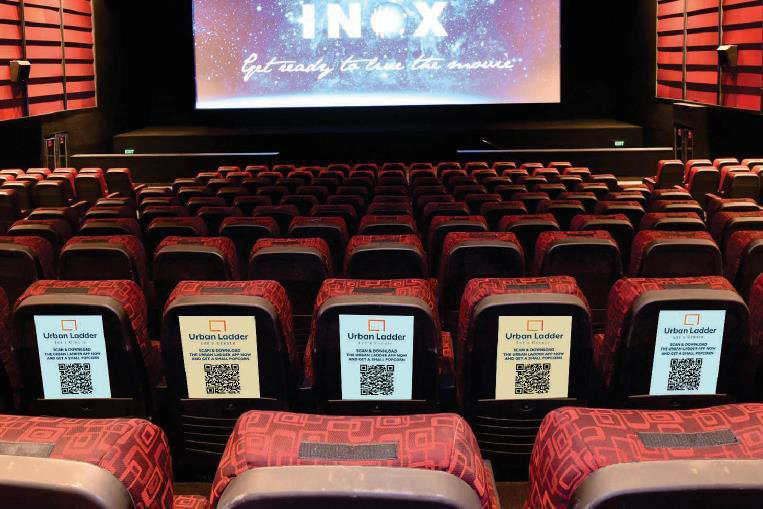 Advertising in cinema can make brands very effectively reach out to large number of that audience who are sitting in the dark and waiting for the movie to begin. There are more than 10,000 cinema screens which are currently playing advertisements of different brands across India. There are two types of cinema ads: On Screen and In the Cinema Complexes. The former (also known as dynamic cinema advertising) is the most popular way of cinema advertising and its options are slide on the screens, videos on the screens etc. The later form of cinema advertising is also known as mute or silent or offline cinema advertising, which can be placed at some prominent place in a cinema complex.
Cinema Advertising Rates
Rates for advertising in cinema theatre are cheaper and depend on the type of multiplex, cinema screen, number of seats in that multiplex, location of multiplex and the cinema multiplex brand. The cost for advertising in multiplex is usually higher as compared to single screen cinema halls advertising. There are different rates for on screen advertisements (like video ads) and offline ad cinema advertisements like standees, billboards etc. Volume of campaign, length of the video, time duration etc also determines the price for cinema advertising.
Cinema advertising Options
Exopic Media is one of the popular movie advertising agencies in Delhi. The most popular cinema and multiplex advertising options in metro cities are chains of multiplex like PVR Cinema, Inox, cinepolis, Carnival cinemas, Satyam cinemas, DT cinemas and Wave cinemas whereas in rural areas, it is mainly a single screen theatre advertising option.
These are the cinema advertising options available for clients/agencies to advertise on screen in multiplex:
| S.N. | Cinema Advertising Options | Description |
| --- | --- | --- |
| 1 | On Screen mute Slide | Static slides with couple of (2-)3 transitions within 10 seconds |
| 2 | On Screen Audio Slide | Static slides with background score within 10 seconds |
| 3 | On Screen Video | 30 sec Video played on screen |
| 4 | On Screen Video | 60 sec Video played on screen |
| 5 | Off Screen Branding | Kiosk and Posters |
| 6 | Activation | Launch, Sampling, pamphlet distribution and ticket jackets |
Exopic Media is one of the leading Cinema advertising companies in India. We work with the aim of providing impactful, creative and innovative cinema advertising solutions to clients/agencies. With our online presence across India, we are one of the best cinema advertising agencies in India. Our team of young and enthusiastic professionals not only ensures the best rates for clients but also provides the best advertising slots and innovative options.
Advantages of Advertising in Cinema
Cinema advertising gives literally a direct engagement with audience.
The audience is captive and can be targeted effectively with clear ad-message.
The audience is receptive, as they are open to watching the ad on cinema screen. This receptiveness is much higher than any other medium.
Cost per contact is less than other non traditional advertising options.
Here, we are listing some important information about Cinema advertising .
Timeline for Advertising in Cinema
All cinema advertising campaigns start only on a Friday (second show), but there are few exceptions to this (in some cases, it might start on any day). Confirmations for advertisement are normally required to be placed, at least 3 days in advance.
Certification for Cinema Advertising
A censor certificate is mandatory required for running all advertisements in a cinema. You may either apply for censor certificate directly, or your movie advertising agency may get it done on your behalf. The charges for getting censor certification for cinema advertising are nominal.
Proof of Execution
For on-screen verification, inspection pass is provided by theatres to the advertisers whereas for off-screen cinema advertising, pictures will be provided as proof of execution.
Cinema Advertising Contact Number
Exopic Media offers advertising solutions in Cinema. We offered Best Cinema or Movie Advertising Rates in Delhi, India in Year 2019, 2018 and 2017. To know more, and/or to get the best quote for your Cinema Advertising requirements, please get in touch at # +91-7678237402, or drop a line at info@exopicmedia.com
Similar Searches to Cinema Advertising Agency