Newspaper Advertising Agency in India
Newspaper advertising in India has been around longer than any other form of advertisements that we get to see today and is still the first preference of advertising for clients and agencies. Newspaper advertisements are a good way to reach a large number of people, especially those aged of 20-60+ who read the paper more frequently. The people aged around 40+ are considered to be more serious readers than younger demographic groups who prefer to watch television, listen to radio or surf internet for their news and info. Newspaper ads can be targeted at appropriate markets by requesting that ads run in the sections like it sports, lifestyle or business that most closely relate to your target audience.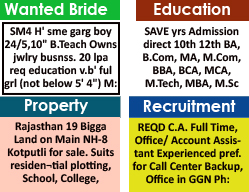 Classified Text Ad
Affordable
Simple Text,Charge per word
Enhance with Background Color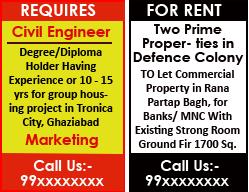 Classified Display
Price on per sq.cm basis
Use logos and formatting
More Visible and Expensive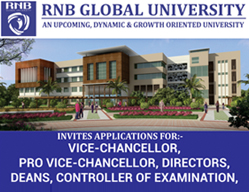 Display
Customize Page Choice
Customize Ad Width and Height
Ad will appears beside editorial content
More Expensive, for Businesses
Types of Newspaper Advertisements
There are three types of newspaper advertisements: Classified ads, Display ads and Innovative ads. The classified ads are low budget advertisements and are of two types: Run on Line (ROL) and classified Display ads. The various sub categories in classified advertising are Matrimonial ads, Property Ads, Recruitment Ads, Business Ads, announcements, Public Notices, Services Ad, Obituaries, Astrology ads, Education ads. ROL in Newspapers can either be plain text called Classified Text or images based called Display Classified Ads. The Newspaper advertising rates for the above mentioned advertisements are calculated either on per line basis or per square cm basis. The minimum ad size for ROL is 5 lines and for Times Display classified ad, it is 3×5 cm.
The second category in newspaper advertisement is the most common one and they are also referred to as Display or regular advertising in Newspaper. The size of these Newspaper ads are bigger as compared classified ads. The normal Newspaper advertising options are Full Page ads, Half Page ads, Quarter Page ads and then smaller size ads.
Newspaper Advertising Options
The third category of Newspaper advertising is Pointer ads, Ear Panels, samplings and Newspaper Jackets.
Customers can easily book different types of advertisements like Matrimonial, Recruitment, Property, Education, Name Change, Notices and Obituary ads by utilizing our services at reasonable prices. In addition, customized packages and proper media planning are also offered by us. We also help the clients place their advertisements in magazines, on radio, in television and cinema, and through the digital medium.




















































































Newspaper Advertising Cost
Newspaper advertising costs depend on a lot of things: the size of ads, circulation and readership, what publications you use, editions, sections and positions of the papers you want to take your ads in, the volume with which you run the ads, and whether you use colour in your ads. So a half page ad will be more expensive than a quarter page ad. Premium positions advertisements are costlier than that of non premium advertisements. Exopic Media is a leading Newspaper Advertising Agency in India which offers newspaper advertising services to clients at very affordable cost. Exopic Media has always been an excellent platform for booking advertisements in any national and regional newspapers. The Advertisements in leading newspapers like The Times of India, Hindustan Times, Hindu, Amar Ujala, Dainik Jagran, Tribune and Indian express and many more can be booked with through us.
Exopic Media – A Newspaper Advertising Agency in India
Exopic Media is the best Newspaper advertising agencies in India which help clients get the best and lowest advertising rate for Newspaper advertising. We have a tie up with more than 200 newspapers and publication houses across India. Our Team assure the best discounts to clients while placing an advertisement in Newspaper through us.
Newspaper Advertising Agency Contact Number
You may choose to contact us for best discounts and to execute your Newspaper advertising campaign. You can contact us either online, or by sending a mail info@exopicmedia.com or call us at 07678237402
Similar Searches for Newspaper Advertising in India